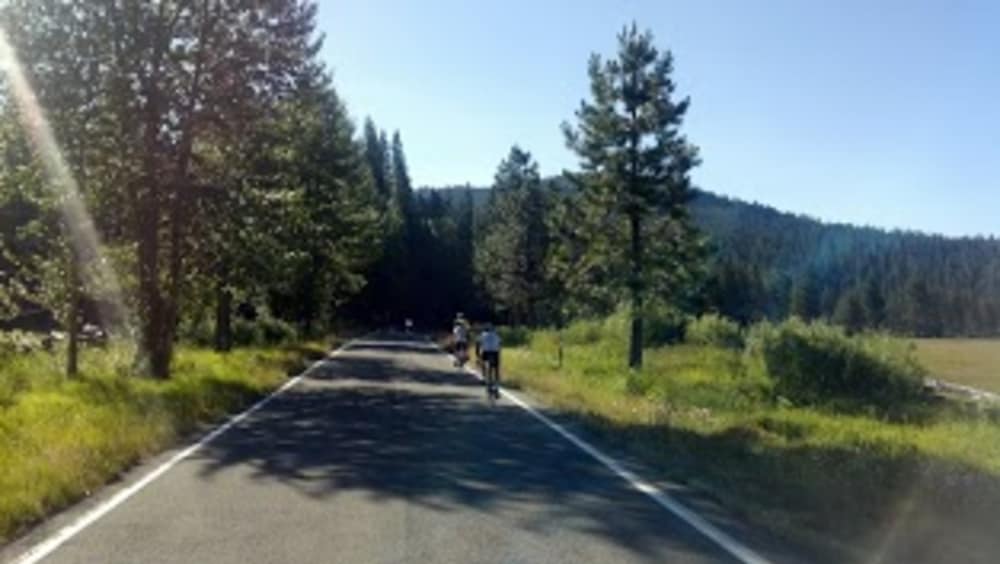 Opportuntity to Bike Lassen Park Main Road without Vehicular Traffic
May 20, 2013 by: Sharon Roberts
A once in a lifetime opportunity awaits cyclists this year at Lassen Volcanic National Park
Due to continued road construction on Hwy 89 in Lassen Park near Sulphur Works, the 30 mile stretch of Hwy 89 in Lassen Park will be open to pedestrians and bicyclists only. The road will be open May 28th to June 6th from the North entrance near Manzanita Lake to the South entrance and the Kohm Yah-mah-nee Visitor center. During this time frame vehicles will not be allowed past Sulphur Works on the south side and the Devastated Area on the north side of Lassen Park. The road is open May 20th- to May 24th noon for pedestrians and bicyclists per park ranger today. It is not being promoted due to debri near Sulphur Works. If you are careful getting by construction at Sulphur Works you may bike or hike the complete 30 miles of Hwy 89 in the park.
Please if cycling is important to you contact Lassen Park at 530-595-4480. Leave a message that you are unable to make it this year, but are interested for future years. The park road has opened as early as May 10th in 2001 and as late as July 16th in 2011. Once snow is removed it may be possible to allow bicyclists and hikers for 1-2 days before traffic is allowed. To have this happen you need to make your voice heard.
This is a unique opportunity to enjoy the park and all the great views along Hwy 89 from your bicycle. Hwy 89 runs 30 miles north and south through Lassen Park. This Hwy has the distinction of being the highest paved road in the entire Cascade Range reaching 8,512 feet.
Hwy 89 is part of the Volcanic Legacy Scenic Byway which many bicyclists enjoy each year. To have the rare opportunity to enjoy the views along Hwy 89 in the park with only other bicyclists and hikers is something not to be missed if possible.
There is lodging and camping on both the north side of Lassen Park, (Rim Rock Ranch Resort), camping in the park, and lodging and meals at the St. Bernard Lodge 20 miles from the south entrance of Lassen Park.
If you have more than a day you may want to include a ride around the West side of Lassen Park and include Manton. Manton has several wineries to visit. A ride around the east side of Lassen Park could include visiting the Subway Caves in the Lassen National Forest. South east of Lassen Park you have St. Bernard Lodge, the town of Chester and Lake Almanor.
A few great rides in the Chester area include; Last Chance Loop, Lake Almanor Recreation Trail and riding around the 52 miles of shoreline of Lake Almanor. The Bizz Johnson Trail runs from Westwood to Susanville. Bodfish Bicycles and Quiet Mountain Sports has some artistic maps of these trails. We always recommend riding the Lake Almanor Recreation Trail to our guests traveling from St. Bernard Lodge to Quincy. It adds little in the way of distance and gets you off of Hwy 89. The trail is 6 feet wide and paved. In the height of summer you may have to share with hikers, but no cars to deal with.
Chico Velo Cycling Club has a June Adventure Ride scheduled for Lassen Park on June 8th. Please check their website for details.
Coming up in the near future are two century bike rides in the area. The first is June 15th and is the Mile High 100 ride around Lake Almanor. this will be the 31st year for this ride.. The second ride is in Greenville and travels through Indian Valley this ride is schedule for June 22nd.
Some of the best back roads of Plumas County are included on the Barn Quilt Trail. These routes get you off the main roads and allow for beautiful scenery and also stunning barn quilts. More information on biking Plumas County.
Hwy 89 in Lassen Park will be open to traffic for Memorial Day Weekend. Road is due to open to traffic at noon on May 24th and closes May 27th or early May28th.
We hope to see you and share our mountain with you.